Ad blocker interference detected!
Wikia is a free-to-use site that makes money from advertising. We have a modified experience for viewers using ad blockers

Wikia is not accessible if you've made further modifications. Remove the custom ad blocker rule(s) and the page will load as expected.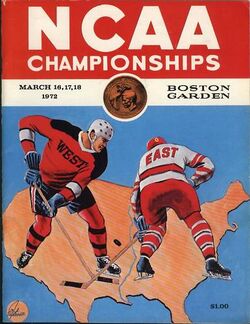 The 1972 Frozen Four was held March 16-18, 1972, in Boston, Massachusetts at Boston Garden.
The participants were:
The Terriers of Boston University would win their second straight national championship, blanking rival Cornell 4-0 with help from the hometown crowd. It would be the last time that a team would enjoy a second straight championship win until 2003, when Minnesota accomplished the feat.
Tournament bracket
Edit
Semifinals
Final
Boston U.
4
Wisconsin
1
Boston U.
4
Cornell
0
Third place
Denver
2
Wisconsin
5
Cornell
7
Denver
2
Team Photos
Edit
All-Tournament Team
Edit
G Tim Regan, Boston University
D Bob Brown, Boston University
D Ric Jordan, Boston University
F John Danby, Boston University
F Bob Krieger, Denver
F Dave Westner, Cornell
F Gary Winchester, Wisconsin
Most Outstanding Player: G Tim Regan, Boston University