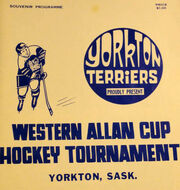 Champions
Edit
British Columbia:	Nelson Maple Leafs
Alberta: 		Calgary Stampeders
Saskatchewan:		Yorkton Terriers
Manitoba:		St Boniface Mohawks

Round Robin
@ Yorkton
This year a round robin was played between the four teams. This was supposed to cut down on travel costs.
Friday April 16		Yorkton 6 St Boniface 5
Friday April 16		Nelson 5 Calgary 1
Saturday April 17	Calgary 4 Yorkton 0
Saturday April 17	Nelson 7 St Boniface 3
Sunday April 18		Calgary 11 St Boniface 3
Sunday April 18		Yorkton 8 Nelson 7

Standings
Edit
Calgary & Nelson awarded first and second places on goal differentials.
Tie breaker final
Edit
sudden death
Monday April 19 Calgary 4 Nelson 2

Calgary Stampeders advanced to the 1970-71 Allan Cup Final
Ad blocker interference detected!
Wikia is a free-to-use site that makes money from advertising. We have a modified experience for viewers using ad blockers

Wikia is not accessible if you've made further modifications. Remove the custom ad blocker rule(s) and the page will load as expected.