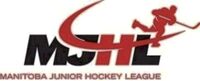 This is the 1970-71 Manitoba Junior Hockey League Season.
CAHA Notes
Edit
The Canadian Amateur Hockey Association divided Junior A Hockey into two categories, Tier 1 and Tier 2.
Tier 1 was limited to only three leagues, the Ontario Major Junior Hockey League, the Quebec Major Junior Hockey League, and the Western Canada Hockey League. The remaining Junior A Leagues fell into Tier 2. Only Tier 1 Leagues were allowed to play for the Memorial Cup, Canada's Junior A Championship.
In May 1970, Frank McKinnon tabled a motion at the CAHA annual general meeting to allow the remaining Junior A Leagues to compete for a national championship. The motion was carried and the Manitoba Amateur Hockey Association donated the Manitoba Centennial Trophy, in celebration of Manitoba's centennial (1970).
In time, Tier 1 would become known as Major Junior, and Tier 2 as simply Junior A.
League Notes
Edit
Terry Sawchuk Memorial Trophy for Top Goaltender introduced.
Regular Season
Edit
 
Division Semi-Finals
Division Finals
Turnbull Cup Championship
 
 
 
 
 
 
 
 
 
 
 
 
 
 
 
1
 Kenora Muskies
4
 
3
 Dauphin Kings
3
 
 
1
 Kenora Muskies
4
 
North Division
 
4
 Selkirk Steelers
1
 
2
 Portage Terriers
2
 
4
 Selkirk Steelers
4
 
 
 
1
 Kenora Muskies
0
 
3
 St. Boniface Saints
4
 
1
 West Kildonan North Stars
3
 
3
 St. Boniface Saints
4
 
3
 St. Boniface Saints
4
South Division
 
2
 St. James Canadians
0
 
2
 St. James Canadians
4
 
4
 Winnipeg Monarchs
2
 
Manitoba / Saskatchewan Playoff
Edit
St. Boniface defeated Weyburn Red Wings (SJHL) 4-games-to-2
see 1971 Manitoba/Saskatchewan Junior A Playoff
Western Canada Championship
Edit
Abbott Cup Championship
St. Boniface lost to Red Deer Rustlers (AJHL) 4-games-to-none
see 1971 Abbott Cup
League Leaders
Edit
League Record
Edit
Scoring Leaders
Edit
All-Star Teams
Edit