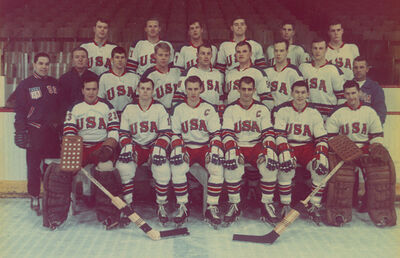 Medal Round
Edit
Czechoslovakia –
USA 5:1 (1:1, 2:0, 2:0)
Goalscorers: Suchý, Havel, Jiřík, Hejma, Jiří Holík – Volmar.
Referees: Dahlberg, Wiking (SWE)

Sweden –
USA 4:3 (0:0, 4:2, 0:1)
Goalscorers: Nilsson, Wickberg, Hedlund, Bengsston – Falkman, Lilyholm, Nanne.
Referees: McEvoy, Kubinec (CAN)
USSR –
USA 10:2 (6:0, 4:2, 0:0)
Goalscorers: Firsov 3, Blinov 2, Populanov 2, Kuzkin, Staršinov, Mojsejev – Ross, Morrison.
Referees: Dahlberg (SWE), Kubinec (CAN)
Canada –
USA 3:2 (1:2, 0:0, 2:0)
Goalscorers: Cadieux 2, Johnston – Pleau, Riutta.
Referees: Snětkov, Seglin (URS)
USA –
West Germany 8:1 (2:1, 4:0, 2:0)
Goalscorers: Volmar 2, Ross, Morrison, Nanne, Pleau, Cunnoff, P. Hurley – Funk.
Referees: McEvoy (CAN), Seglin (URS)

East Germany –
USA 4:6 (1:3, 1:1, 2:2)
Goalscorers: Fuchs 2, Karrenbauer 2 – Stordahl 2, P. Hurley 2, Volmar, Lilyholm.
Referees: Kubinec (CAN), Seglin (URS)
USA –

Finland 1:1 (1:1, 0:0, 0:0)
Goalscorers: Volmar – Wahlsten.
Referees: Kubinec (CAN), Seglin (URS)
Leading scorer
Edit
Contestants
Edit
6. United States
Goaltenders: Pat Rupp, James Logue.
Defence: Lou Nanne, Bob Paradise, Paul Hurley, Donald Ross, Bruce Riutta, Robert Gaudreau.
Forwards: Herb Brooks, Larry Pleau, John Cunniff, Doug Volmar, Leonard Lilyholm, Craig Falkman, Jack Morrison, Tom Hurley, Larry Stordahl, Jack Dale.
Coach: Murray Williamson.
Ad blocker interference detected!
Wikia is a free-to-use site that makes money from advertising. We have a modified experience for viewers using ad blockers

Wikia is not accessible if you've made further modifications. Remove the custom ad blocker rule(s) and the page will load as expected.