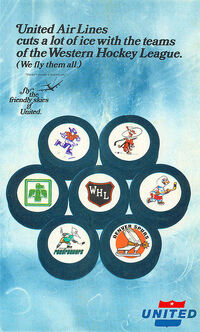 This is the 1968-69 season of the Western Hockey League. It was the seventeenth season of the league.
The Denver Spurs entered the league as a new team.
Standings
Edit
Portland Buckaroos     74-40-18-16-96    296-201
Vancouver Canucks      74-36-24-14-86    259-223
San Diego Gulls        74-33-29-12-78    273-260
Seattle Totems         74-33-30-11-77    236-238
Phoenix Roadrunners    74-21-41-12-54    199-282
Denver Spurs           74-23-44- 7-53    254-308

Semi Finals
Edit
Best of 5
Best of 7
Vancouver Canucks beat Portland Buckaroos 4 wins to none. (6-3. 5-2 , 3-2, 2-1)
Vancouver Canucks won the Lester Patrick Cup.
All-Star Teams
Edit
First Team
Edit
Second Tea
Edit
Team photos
Edit
Ad blocker interference detected!
Wikia is a free-to-use site that makes money from advertising. We have a modified experience for viewers using ad blockers

Wikia is not accessible if you've made further modifications. Remove the custom ad blocker rule(s) and the page will load as expected.