Ad blocker interference detected!
Wikia is a free-to-use site that makes money from advertising. We have a modified experience for viewers using ad blockers

Wikia is not accessible if you've made further modifications. Remove the custom ad blocker rule(s) and the page will load as expected.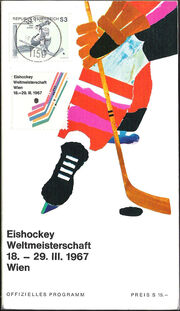 The 1967 World Ice Hockey Championships was the 34th edition of the Ice Hockey World Championships. The tournament was held in Vienna, Austria from March 18 to March 29, 1967. For the fifth straight year, the Soviet Union won the tournament.
World Championship Group A (Austria)
Edit
Final Round
Edit
All-Star Team
Edit
World Championship Group B (Austria)
Edit
Final Round
Edit
| Place | Team | Matches | Won | Drawn | Lost | Difference | Points |
| --- | --- | --- | --- | --- | --- | --- | --- |
| 9 |  Poland | 7 | 5 | 2 | 0 | 32 - 13 | 12 |
| 10 |  Romania | 7 | 5 | 2 | 0 | 34 - 18 | 12 |
| 11 |  Norway | 7 | 5 | 0 | 2 | 35 - 21 | 10 |
| 12 |  Yugoslavia | 7 | 2 | 3 | 2 | 29 - 31 | 7 |
| 13 |  Italy | 7 | 2 | 1 | 4 | 23 - 31 | 5 |
| 14 |  Austria | 7 | 2 | 1 | 4 | 23 - 34 | 5 |
| 15 |  Switzerland | 7 | 1 | 1 | 5 | 22 - 37 | 3 |
| 16 |  Hungary | 7 | 0 | 2 | 5 | 27 - 40 | 2 |
World Championship Group C (Austria)
Edit
Final Round
Edit
| Place | Team | Matches | Won | Drawn | Lost | Difference | Points |
| --- | --- | --- | --- | --- | --- | --- | --- |
| 17 |  Japan | 4 | 4 | 0 | 0 | 46 - 08 | 8 |
| 18 |  Denmark | 4 | 2 | 0 | 2 | 18 - 23 | 4 |
| 19 |  Bulgaria | 4 | 2 | 0 | 2 | 17 - 17 | 4 |
| 20 |  France | 4 | 1 | 0 | 3 | 18 - 21 | 2 |
| 21 |  Netherlands | 4 | 1 | 0 | 3 | 19 - 49 | 2 |
Team Photos
Edit
Media Ads
Edit
References
Edit
Szemberg, Szymon & Podnieks, Andrew, eds. (2007), World of Hockey: Celebrating a Century of the IIHF, Bolton, Ontario: Fenn Publishing, ISBN 1-55168-307-5