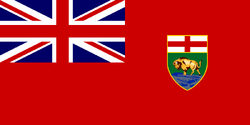 From 1955 thru 1964, 10 straight years, the Winnipeg Maroons
were Manitoba's only Senior A hockey team. It was automatic, they represented Manitoba in Allan Cup playoffs. In 1956-57, when the Maroons did not compete, and Manitoba had no representative.
The Maroons played a make shift schedule during this time span.



---
Winnipeg Maroons go on to the 1963-64 Western Canada Allan Cup Playoffs
---
Manitoba Senior AAA Hockey History
Team Photo
Edit
Ad blocker interference detected!
Wikia is a free-to-use site that makes money from advertising. We have a modified experience for viewers using ad blockers

Wikia is not accessible if you've made further modifications. Remove the custom ad blocker rule(s) and the page will load as expected.