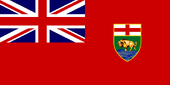 Only the Flin Flon Warriors and all four Manitoba Intermediate AA Hockey League teams, registered in Intermediate AA with the Manitoba Amateur Hockey Association, to challenge for the Manitoba Championship, the McDiarmid Shield. Manitoba Intermediate League held it's own playoffs.

Manitoba Intermediate AA Final (McDiarmid Shield)
Flin Flon Warriors defeated Transcona Lions 3-games-to-1
---
Flin Flon Warriors advanced to the 1963-64 Western Canada Intermediate Playoffs
---
Manitoba Intermediate A Hockey History
Team Photos
Edit
Ad blocker interference detected!
Wikia is a free-to-use site that makes money from advertising. We have a modified experience for viewers using ad blockers

Wikia is not accessible if you've made further modifications. Remove the custom ad blocker rule(s) and the page will load as expected.