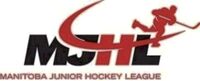 This is the 1962-63 Manitoba Junior Hockey League Season.
League Notes
Edit
League scheduled 100 games, 40 per team.
Regular Season
Edit
Note: Balance of season cancelled in order to accommodate Memorial Cup playoffs.
Semi-Finals
Brandon defeated Monarchs 3-games-to-2
St. Boniface defeated Braves 3-games-to-none
Manitoba Championship (Turnbull Cup)
Brandon defeated St. Boniface 4-games-to-1
Memorial Cup Playoffs
Edit
Western Canada Semi-Final
Brandon defeated Fort William Canadiens (TBJHL) 4-games-to-none
Western Canada Championship (Abbott Cup)
Brandon lost to Edmonton Oil Kings (AAHA) 4-games-to-1
see 1962-63 Western Canada Memorial Cup Playoffs
All-Star Game
Edit
The 2nd annual Manitoba - Saskatchewan classic was held in Regina, with SJHL winning 5-2, and captured the Charlie Gardiner Memorial Trophy. The SJHL scored the first two goals, and held period leads of 2-1 and 4-1.
League Leaders
Edit
Scoring Leaders
Edit
Leading Goaltenders
Edit
All-Star Teams
Edit
First All-Star Team
Ted Irvine • Bob Stoyko • Jerry Korp
St. Boniface Canadiens • Brandon Wheat Kings • Brandon Wheat Kings
Ray Clearwater • Tracy Pratt
Winnipeg Braves • Brandon Wheat Kings
Henry Goy
St. Boniface Canadiens
Second All-Star Team
Jim Irving • Steve Yoshino • Dave Confrey
Winnipeg Rangers • St. Boniface Canadiens • St. Boniface Canadiens
George Butterworth • John Trojack
St. Boniface Canadiens • St. Boniface Canadiens
Rick Best
Winnipeg Braves
All-Star Team Coach
Pete Kapusta
St. Boniface Canadiens