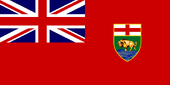 Nine teams registered in Intermediate AA with the Manitoba Amateur Hockey Association, including all five Winnipeg Metro Intermediate AA Hockey League teams, to challenge for the Manitoba Championship, the McDiarmid Shield. Winnipeg Metro League champion advanced to AA Final.

Manitoba Intermediate AA Quarter Finals
Brandon Cloverleafs defeated Dominion City Flyers 2-games-to-none
The Pas Huskies defeated Flin Flon Bombers
Manitoba Intermediate AA Semi Final
Brandon Cloverleafs defeated The Pas Huskies 2-games-to-none
Manitoba Intermediate AA Final (McDiarmid Shield)
Brandon Cloverleafs defeated Transcona Lions 2-games-to-1 with one game tied
Manitoba Intermediate AA-AB Final
Brandon Cloverleafs defeated Miami Rockets 2-games-to-none
---
Brandon Cloverleafs advanced to the 1961-62 Western Canada Intermediate Playoffs
---
Manitoba Intermediate A Hockey History
Ad blocker interference detected!
Wikia is a free-to-use site that makes money from advertising. We have a modified experience for viewers using ad blockers

Wikia is not accessible if you've made further modifications. Remove the custom ad blocker rule(s) and the page will load as expected.