Ad blocker interference detected!
Wikia is a free-to-use site that makes money from advertising. We have a modified experience for viewers using ad blockers

Wikia is not accessible if you've made further modifications. Remove the custom ad blocker rule(s) and the page will load as expected.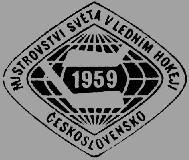 The 1959 World Championship were held between March 5th and March 15th 1959 in Prague, Czechoslovakia.
That year, the Canadian National Team was made up by the players of the Belleville McFarlands.
First Round
Edit
| Place | Team | Matches | Won | Drawn | Lost | Difference | Points |
| --- | --- | --- | --- | --- | --- | --- | --- |
| 1 | Canada | 3 | 3 | 0 | 0 | 39 - 02 | 6 |
| 2 | Czechoslovakia | 3 | 2 | 0 | 1 | 24 - 08 | 4 |
| 3 | Switzerland | 3 | 1 | 0 | 2 | 08 - 35 | 2 |
| 4 | Poland | 3 | 0 | 0 | 3 | 04 - 30 | 0 |
05 March
Czechoslovakia
9-0
Switzerland
05 March
Canada
9-0
Poland
06 March
Canada
23-0
Switzerland
06 March
Czechoslovakia
13-1
Poland
07 March
Poland
3-8
Switzerland
07 March
Canada
7-2
Czechoslovakia
| Place | Team | Matches | Won | Drawn | Lost | Difference | Points |
| --- | --- | --- | --- | --- | --- | --- | --- |
| 1 | Soviet Union | 3 | 3 | 0 | 0 | 24 - 05 | 6 |
| 2 | United States | 3 | 2 | 0 | 1 | 22 - 10 | 4 |
| 3 | Norway | 3 | 1 | 0 | 2 | 10 - 26 | 2 |
| 4 | East Germany | 3 | 0 | 0 | 3 | 06 - 21 | 0 |
05 March
Soviet Union
6-1
East Germany
05 March
Norway
3-10
United States
06 March
United States
9-2
East Germany
06 March
Norway
1-13
Soviet Union
07 March
East Germany
3-6
Norway
07 March
Soviet Union
5-3
United States
| Place | Team | Matches | Won | Drawn | Lost | Difference | Points |
| --- | --- | --- | --- | --- | --- | --- | --- |
| 1 | Sweden | 3 | 2 | 1 | 0 | 21 - 05 | 5 |
| 2 | Finland | 3 | 1 | 1 | 1 | 13 - 12 | 3 |
| 3 | West Germany | 3 | 1 | 0 | 2 | 11 - 13 | 2 |
| 4 | Italy | 3 | 1 | 0 | 2 | 07 - 22 | 2 |
05 March
Sweden
11-0
Italy
05 March
Finland
5-3
West Germany
06 March
Italy
2-7
West Germany
06 March
Sweden
4-4
Finland
07 March
Italy
5-4
Finland
07 March
West Germany
1-6
Sweden
Final Round
Edit
09 March
Canada
6-0
Finland
09 March
Soviet Union
5-1
United States
09 March
Czechoslovakia
4-1
Sweden
10 March
Czechoslovakia
8-2
Finland
10 March
United States
7-1
Sweden
11 March
United States
10-3
Finland
11 March
Soviet Union
1-3
Canada
12 March
Canada
5-0
Sweden
12 March
Czechoslovakia
3-4
Soviet Union
13 March
Sweden
2-1
Finland
13 March
Czechoslovakia
2-4
United States
14 March
United States
1-4
Canada
14 March
Finland
1-6
Soviet Union
15 March
Soviet Union
4-2
Sweden
15 March
Czechoslovakia
5-3
Canada
Consolation Round
Edit
09 March
Poland
1-5
East Germany
09 March
Norway
4-4
Switzerland
09 March
West Germany
2-2
Italy
10 March
Italy
3-4
Norway
10 March
Poland
3-5
West Germany
10 March
East Germany
6-2
Switzerland
11 March
West Germany
8-0
East Germany
11 March
Switzerland
1-4
Italy
11 March
Norway
4-3
Poland
13 March
East Germany
8-6
Italy
13 March
West Germany
9-4
Norway
13 March
Switzerland
1-2
Poland
14 March
Switzerland
0-6
West Germany
14 March
Poland
2-5
Italy
14 March
Norway
4-1
East Germany
Top Players
Edit
Top scorers
Edit
Rk Name                Nat   G  A PTS 
 1 Gordon Berenson     CAN   9  4  13
 2 Ike Hildebrand      CAN   6  6  12
 3 Paul Johnson        USA   8  3  11
 4 Jozef Golonka       CZE   7  4  11
 5 Miroslav Vlach      CZE   8  2  10
 6 Peter Conacher      CAN   7  3  10
 7 Evgeni Groshev      USR   6  4  10
 8 Johnny McLelland    CAN   4  6  10
 9 Tom Williams        USA   7  2   9
10 Jaroslav Jirík      CZE   6  3   9

| Place | Team | Matches | Won | Drawn | Lost | Difference | Points |
| --- | --- | --- | --- | --- | --- | --- | --- |
| 13 |  Romania | 2 | 2 | 0 | 0 | 12 - 04 | 4 |
| 14 |  Hungary | 2 | 1 | 0 | 1 | 05 - 09 | 2 |
| 15 |  Austria | 2 | 0 | 0 | 2 | 04 - 08 | 0 |
Team Photos
Edit