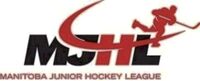 This is the 1957-58 Manitoba Junior Hockey League Season.
League Notes
Edit
Brandon Wheat Kings leave of absence extended.
League admited the Winnipeg Braves.
Winnipeg Barons renamed Winnipeg Olympics.
Winnipeg Rangers moved to Brandon, becoming the Brandon Rangers.
Winnipeg Olympics folded.
League scheduled 60 games, 30 per team.
For January, the Rangers moved to Transcona and were rename the Transcona Rangers.
Regular Season
Edit
Semi-Final
St. Boniface defeated Braves 3-games-to-2
Manitoba Championship (Turnbull Cup)
St. Boniface defeated Monarchs 4-games-to-3
Memorial Cup Playoffs
Edit
Western Canada Semi-Final
St. Boniface defeated Fort William Canadiens (TBJHL) 4-games-to-1
Western Canada Championship (Abbott Cup)
St. Boniface lost to Regina Pats (SJHL) 4-games-to-2
see 1957-58 Western Canada Memorial Cup Playoffs
League Leaders
Edit
League Record
Edit
Scoring Leaders
Edit
All-Star Teams
Edit
First All-Star Team
Laurie Langrell • Gord Labossiere • Claude Normandeau
Winnipeg Braves • Transcona Rangers • St. Boniface Canadiens
Bill McDowell • Connie Neil
Winnipeg Monarchs • Transcona Rangers
Ron Mathers
Winnipeg Monarchs
Coach
Bill Allum
Winnipeg Braves
Manager
Lloyd Frihagen
St. Boniface Canadiens
Second All-Star Team
Al LeBlanc • Bill Saunders • Bill Colpitts
Winnipeg Braves • Winnipeg Monarchs • Winnipeg Monarchs
Bob Donas • Ted Lanyon
St. Boniface Canadiens • St. Boniface Canadiens
Don Shalley
St. Boniface Canadiens
Coach
Bill Leask
Winnipeg Monarchs
Manager
Ray Frost
Transcona Rangers