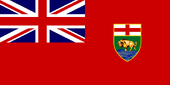 The Manitoba Amateur Hockey Association had the winners of the Big Six Intermediate Hockey League and Winniboine Intermediate Hockey League playoff in the best of 3, for the Provincial Championship, the McDiarmid Shield.
Intermediate A Final (McDiarmid Shield)
Brandon Wheat Kings defeated Pine Falls Paper Kings 2-games-to-1
Intermediate A-B Final
Brandon Wheat Kings defeated Pilot Mound Pilots 2-games-to-none
---
Brandon Wheat Kings advanced to the 1954-55 Western Canada Intermediate Playoffs
---
Manitoba Intermediate A Hockey History
Ad blocker interference detected!
Wikia is a free-to-use site that makes money from advertising. We have a modified experience for viewers using ad blockers

Wikia is not accessible if you've made further modifications. Remove the custom ad blocker rule(s) and the page will load as expected.