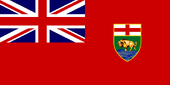 Seventeen teams registered in Intermediate A with the Manitoba Amateur Hockey Association, including all Big Six and Winniboine league teams, to challenge for the Manitoba Championship, the McDiarmid Shield.
Big Six and Winniboine champions advanced to A Semi Final.

Intermediate A Round 1
Norwood Flyers defeated Selkirk Fishermen
Manitoba Intermediate A Quarter Finals
Carman Beavers defeated Winnipeg Army
Norwood Flyers defeated Steinbach Huskies
Manitoba Intermediate A Semi Finals
Dauphin Kings defeated Carman Beavers 2-games-to-none (13-0 & 15-2)
Pine Falls Paper Kings defeated Norwood Flyers 2-games-to-none (9-6 & 9-2)
Manitoba Intermediate A Final (McDiarmid Shield)
Dauphin Kings defeated Pine Falls Paper Kings 2-games-to-1 (5-3, 6-8, & 10-7)
Manitoba Intermediate A-B Final
Dauphin Kings defeated Poplar Point Memorials 2-games-to-none with one game tied (4-3, 5-5, & 13-3)
---
Dauphin Kings advanced to the 1951-52 Western Canada Intermediate Playoffs
---
Manitoba Intermediate A Hockey History
Ad blocker interference detected!
Wikia is a free-to-use site that makes money from advertising. We have a modified experience for viewers using ad blockers

Wikia is not accessible if you've made further modifications. Remove the custom ad blocker rule(s) and the page will load as expected.