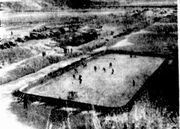 This team was made up of soldiers from the 25th Canadian Infantry Brigade who were in combat in South Korea. They had only limited facilities to practice - frozen rivers and a homemade outdoor rink.
The soldiers who made up this team were in combat. They were tired and out of shape when they arrived in Japan for this tour. They had very legitimate excuses for the result.
Nevertheless, they were the first Canadian team to lose all of its games on an overseas tour.
All @ Tokyo
April 6 2-6 All-Japan
April 7 4-14 All-Japan
April 9 4-6 All-Japan
Ad blocker interference detected!
Wikia is a free-to-use site that makes money from advertising. We have a modified experience for viewers using ad blockers

Wikia is not accessible if you've made further modifications. Remove the custom ad blocker rule(s) and the page will load as expected.