Ad blocker interference detected!
Wikia is a free-to-use site that makes money from advertising. We have a modified experience for viewers using ad blockers

Wikia is not accessible if you've made further modifications. Remove the custom ad blocker rule(s) and the page will load as expected.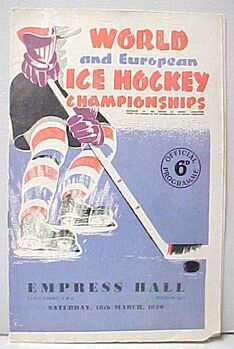 The 17th Ice Hockey World Championships and 28th European Hockey Championships were held from 13 to 22 March 1950 in London, England. In a format similar to the 1949 championships, in the initial round, the nine teams participating were divided into three groups with three teams each. In the second round, the top two teams in each group advanced to the medal pool (for positions 1 through 6) with the remaining three teams advancing to the consolation pool for places 7 through 9. Canada won its 13th World Championship and Switzerland won its fourth European Championship. Both teams benefited from the absence of the defending champion, Czechoslovakia.
World Hockey Championships (in London, England)
Edit
Preliminary round
Edit
Standings
| Pos. | Team | G.P | Wins | Ties | Losses | Goals | Goal diff. | Pts. |
| --- | --- | --- | --- | --- | --- | --- | --- | --- |
| 1 | Great Britain | 2 | 2 | 0 | 0 | 11: 0 | +11 | 4:0 |
| 2 | Norway | 2 | 1 | 0 | 1 | 11: 2 | + 9 | 2:2 |
| 3 | France | 2 | 0 | 0 | 2 | 0:20 | -20 | 0:4 |
Standings
| Pos. | Team | G.P | Wins | Ties | Losses | Goals | Goal diff. | Pts. |
| --- | --- | --- | --- | --- | --- | --- | --- | --- |
| 1 | Canada | 2 | 2 | 0 | 0 | 46: 2 | +44 | 4:0 |
| 2 | Switzerland | 2 | 1 | 0 | 1 | 26:16 | +10 | 2:2 |
| 3 | Belgium | 2 | 0 | 0 | 2 | 3:57 | -54 | 0:4 |
Standings
| Pos. | Team | G.P | Wins | Ties | Losses | Goals | Goal diff. | Pts. |
| --- | --- | --- | --- | --- | --- | --- | --- | --- |
| 1 | Sweden | 2 | 2 | 0 | 0 | 18: 3 | +15 | 4:0 |
| 2 | USA | 2 | 1 | 0 | 1 | 20: 9 | +11 | 2:2 |
| 3 | Netherlands | 2 | 0 | 0 | 2 | 1:27 | -26 | 0:4 |
Second round
Edit
Consolation pool – places 7 to 9
Edit
Standings
| Pos. | Team | G.P | Wins | Ties | Losses | Goals | Goal diff. | Pts. |
| --- | --- | --- | --- | --- | --- | --- | --- | --- |
| 1 | Belgium | 2 | 2 | 0 | 0 | 11: 3 | +8 | 4:0 |
| 2 | Netherlands | 2 | 1 | 0 | 1 | 6: 6 | 0 | 2:2 |
| 3 | France | 2 | 0 | 0 | 2 | 3:11 | -8 | 0:4 |
Medal pool – places 1 to 6
Edit
17 March 1950
London, England
Great Britain
–
Norway
4:3 (1:0,2:2,1:1)
17 March 1950
London, England
Canada
–
Switzerland
11:1 (2:0,3:1,6:0)
17 March 1950
London, England
Sweden
–
USA
2:4 (1:0,1:2,0:2)
18 March 1950
London, England
Switzerland
–
Norway
12:4 (3:3,6:0,3:1)
18 March 1950
London, England
Canada
–
USA
5:0 (0:0,1:0,4:0)
18 March 1950
London, England
Great Britain
–
Sweden
5:4 (0:0,1:2,4:2)
20 March 1950
London, England
Great Britain
–
USA
2:3 (2:1,0:0,0:2)
20 March 1950
London, England
Canada
–
Norway
11:1 (3:0,4:1,4:0)
20 March 1950
London, England
Sweden
–
Switzerland
2:3 (2:1,0:0,0:2)
21 March 1950
London, England
USA
–
Switzerland
10:5 (3:0,1:3,6:2)
21 March 1950
London, England
Sweden
–
Norway
6:1 (2:0,3:0,1:1)
21 March 1950
London, England
Great Britain
–
Canada
0:12 (0:5,0:3,0:4)
22 March 1950
London, England
USA
–
Norway
12:6 (5:0,4:3,3:3)
22 March 1950
London, England
Great Britain
–
Switzerland
3:10 (1:4,2:3,0:3)
22 March 1950
London, England
Canada
–
Sweden
3:1 (1:0,2:0,0:1)
Standings
| Pos. | Team | G.P | Wins | Ties | Losses | Goals | Goal diff. | Pts. |
| --- | --- | --- | --- | --- | --- | --- | --- | --- |
| 1 | Canada | 5 | 5 | 0 | 0 | 42: 3 | +39 | 10: 0 |
| 2 | USA | 5 | 4 | 0 | 1 | 29:20 | + 9 | 8: 2 |
| 3 | Switzerland | 5 | 3 | 0 | 2 | 31:30 | + 1 | 6: 4 |
| 4 | Great Britain | 5 | 2 | 0 | 3 | 14:32 | -18 | 4: 6 |
| 5 | Sweden | 5 | 1 | 0 | 4 | 15:16 | - 1 | 2: 8 |
| 6 | Norway | 5 | 0 | 0 | 5 | 15:45 | -30 | 0:10 |
Final rankings – World Championship
Edit
Team members
Edit
| Pos. | Country | Members |
| --- | --- | --- |
| 1 | CAN | Leo Lucchini, Hassie Young, Ab Newsome, Billy Dawe, Harry Allen, Doug Macauley, Don Stanley, Bob Watt, Marsh Darling, Al Purvis, John Davies, Doug Kilburn, Pete Wright, Don Gauf, Robert David, Jack Manson, Wilbur Delaney; Trainer: Jimmy Graham |
Final rankings – European Championships
Edit
European Champions 1950

Switzerland
Team Photos
Edit
Information based upon German version at http://de.wikipedia.org/wiki/Eishockey-Weltmeisterschaft_1950