Ad blocker interference detected!
Wikia is a free-to-use site that makes money from advertising. We have a modified experience for viewers using ad blockers

Wikia is not accessible if you've made further modifications. Remove the custom ad blocker rule(s) and the page will load as expected.
The Hull Volants were a senior team in Hull, Quebec. They played in the Eastern Canada Senior Hockey League (ECSHL) in 1948-49.
They toured Europe in 1949. Afterwards they returned to Canada and played in the 1949-50 ECSHL Season.
Oct 31		0-2  Falkirk Lions
Nov 2		3-4  Ayr Raiders
Nov 5		6-3  Paisley Pirates
Nov 8		3-7  Harringay Racers
 Nov ??		5-16 (0:4, 2:5, 3:7) Harringay Racers 
Nov 12		12-3 Amsterdam Isjvogels
Nov 14		13-4 Antwerp All Stars
Nov 16		Intra Squad Game: Volants 6 Hull City 5 @ The Hague
Nov 17		Intra Squad Game: Volants 11 Hull City 5 @ The Hague
Nov 21		2-0  AIK @ Stockholm
Nov 22		3-2  (2:0, 1:2, 0:0) IK Göta @ Stockholm
Nov 23		4-2  (1:1, 2:1, 1:0) Hammerby @ Stockholm
Nov 25		5-5  (3:1, 1:2, 1:2) Sweden @ Stockholm
Nov 26		3-3  (1:1, 2:2, 0:0) Sweden @ Stockholm
Nov 29		5-2  (3:0, 1:1, 1:1) Lausanne All Stars @ Lausanne
Dec 1		6-0  (1:0, 3:0, 2:0) Berne All Stars
Dec 2		6-3  (2:1, 1:2, 3:0) Switzerland @ Curych
Dec 4		5-2  (1:0, 0:1, 4:1) Switzerland @ Basle
Dec 5		6-2  (4:1, 0:0, 2:1) Neuchatel Young Sprinters
Dec 7		5-2  Europeans & Canadians @ Paris
Dec 8		1-7  Wembley Combines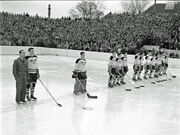 Photo Gallery
Edit