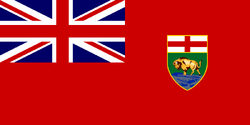 The Manitoba Amateur Hockey Association instructed Manitoba's only Senior A team, the Winnipeg Nationals to playoff against the province's Senior B Champion in the best of 5 series. Winnipeg AAA won the 1948-49 Manitoba Senior B Playoffs Championship. The Nats played in the Manitoba-Thunder Bay Senior Hockey League.



Game
Team 1
Goals
Team 2
Goals
Date
Venue
1
Nationals
10
AAA
2
Friday, March 18
Amphitheatre
balance of series cancelled
Winnipeg Nationals won the Pattison Cup
and advanced to the 1948-49 Western Canada Allan Cup Playoffs
Manitoba Senior AAA Hockey History
Ad blocker interference detected!
Wikia is a free-to-use site that makes money from advertising. We have a modified experience for viewers using ad blockers

Wikia is not accessible if you've made further modifications. Remove the custom ad blocker rule(s) and the page will load as expected.