The 1944 Stanley Cup Final was a best-of-seven series between the Chicago Black Hawks and the Montreal Canadiens. The Canadiens would win the series 4–0 to win their first Stanley Cup since 1931.
Paths to the final
Edit
Chicago defeated the Detroit Red Wings in a best-of-seven 4–1 to advance to the finals. The Canadiens defeated the Toronto Maple Leafs in a best-of-seven 4–1 to advance.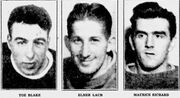 The series
Edit
Maurice "Rocket" Richard made his Stanley Cup debut with a five goal performance in the series, including a hat-trick in game two. The Punch Line of Richard, Elmer Lach and Toe Blake scored 10 of the Canadiens 16 goals. Blake scored the Cup winner in overtime. In the same overtime, Bill Durnan stopped the first penalty shot awarded in the finals, awarded to Virgil Johnson.
Chicago Black Hawks vs. Montreal Canadiens
| Date | Away | Score | Home | Score | Notes |
| --- | --- | --- | --- | --- | --- |
| April 4 | Chicago | 1 | Montreal | 5 | |
| April 6 | Montreal | 3 | Chicago | 1 | |
| April 9 | Montreal | 3 | Chicago | 2 | |
| April 13 | Chicago | 4 | Montreal | 5 | OT |
Montreal wins best-of-seven series 4–0.
Montreal Canadiens 1944 Stanley Cup Champions
Edit
Roster
Stanley Cup engraving
Trainer Ernie Cook and Hector Dubois were included on the team picture in 1944, 1946. However, their names were not engraved on the Cup. When the Stanley Cup was redesigned during the 1957–58 season Cook was added to cup in 1944, but not to 1946 team. Dubois would later have his name on the Stanley Cup 6 times 1953–56–57–58–59–60.
In 1944 Tommy Gorman became the only Manager to win 4 Stanley Cup with 4 different teams. 1920–21–23 Ottawa Senators, 1934 Chicago Black Hawks, 1935 Montreal Maroons and 1944 Montreal Canadiens. He would retire as a champion, after winning one more cup with the Canadiens in 1946.
Spelling mistakes
Bill Durnan's name was misspelled as BILL DURMAN. The first "N" was engraved as a "M". The mistake was corrected in 1992–93 when the Replica Cup was created.
Gerald "Gerry" Heffernan won only 1 Stanley Cup in his career in 1944. However, his name is spelled differently on each of the rings that included the 1944 Montreal Canadiens.
On the original ring in 1944 as GERALD HEFFERNAN
On the Redesigned ring created during 1957–58 season as JERRY HEFFERNAN
On the Replica ring created in 1992–93 as GERRY HEFFERNAN
Photo Gallery
Edit
References and notes
Edit
NHL (2000). Total Stanley Cup. Dan Diamond & Associates.

 

Podnieks, Andrew; Hockey Hall of Fame (2004). Lord Stanley's Cup. Triumph Books, 12, 50. ISBN 1–55168–261–3.
Ad blocker interference detected!
Wikia is a free-to-use site that makes money from advertising. We have a modified experience for viewers using ad blockers

Wikia is not accessible if you've made further modifications. Remove the custom ad blocker rule(s) and the page will load as expected.