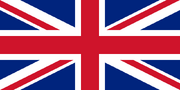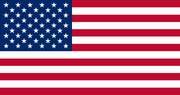 This was the first attempt at bringing international hockey to Canada. For over ten years Canadian teams had been touring Europe but no European team had visited Canada.
Hockey in England has become a major sport, fueled almost exclusively by Canadian imported players. In the United States both amateur and professional hockey were very popular.
The Canadian Amateur Hockey Association (CAHA) brought together the champion of the English National League and the United States amateur champion as well as the winners of the Allan Cup and the Memorial Cup in a tournament at Toronto.
Participating teams
Edit
Preliminary Round Robin
Edit
Saturday April 17 Wembley 6 Hershey 3
Monday April 19 Wembley 4 Winnipeg 2
Tuesday April 20 Sudbury 5 Hershey 2
Wednesday April 21 Winnipeg 8 Hershey 7
On April 21 the United States Amateur Athletic Union (USAAU) suspended the Hershey Bears for earlier playing against the Baltimore Orioles. The Orioles had been refused certification in a dispute between the CAHA and USAAU.
The Canadian AAU then suspended the Winnipeg Monarchs for playing against the Bears. With both the Bears and Monarchs out the round robin was ended. The remaining two teams played a final series.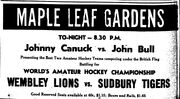 Best of 3
Thursday April 22 Sudbury 3 Wembley 3
Saturday April 24 Sudbury 6 Wembley 4
Monday April 26 Wembley 2 Sudbury 1
(series tied 1-1 with 1 tie)
The Lions had to catch a train on Tuesday morning to get to their ship in New York.
Because of this deadline, it had been pre-arranged to play a sudden death contest after Monday's game if Wembley won. The team that scored first would win.
(sudden death)
Monday April 26 Sudbury 1 Wembley 0
George Hastie scored at 14:25 of the first overtime period.
Sudbury Tigers beat Wembley Lions and won the tournament.
Team Photos
Edit
Afterword
Edit
Even without all the problems the tournament was a failure. The games attracted very small crowds. Part of the problem was that Toronto fans were tired of all the hockey, what with both the Stanley Cup and Memorial Cup finals being held there earlier in the month.
The tournament was not repeated.
The Winnipeg Monarchs were reinstated by the AAU after they explained that they were not informed of the Hershey Bears suspension until after the game.
Ad blocker interference detected!
Wikia is a free-to-use site that makes money from advertising. We have a modified experience for viewers using ad blockers

Wikia is not accessible if you've made further modifications. Remove the custom ad blocker rule(s) and the page will load as expected.