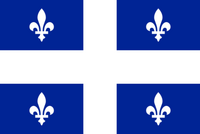 This is the 1936-37 season of the Eastern Provincial League:
Standings
Edit
Note: Lauzon dropped out on Jan. 25, defaulting 3 wins to the Quebec Aces and 2 wins to the Quebec Taverne Centrale.
Note: The season ended prematurely when the Quebec Aces clinched first place.
Semi Final
Edit
2 games total goals
La Tuque 3 Taverne 2
Taverne2 La Tuque 0
Quebec Taverne Centrale beat La Tuque Wolves 4 goals to 3.
Best of 3
Taverne 4 Aces 3
Aces 9 Taverne 4
Taverne 6 Aces 4
Quebec Taverne Centrale beat Quebec Aces 2 wins to 1.
Quebec Taverne Centrale advanced to the 1936-37 Quebec Senior Playoffs.