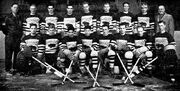 This is the 1936-37 season of the Eastern Hockey League:
Standings
Edit
First Half
Edit
Second Half
Edit
Combined Standings
Edit
Championship Final
Edit
Walker Cup
Best of 5
Hershey 2 Atlantic City 0
Atlantic City 4 Hershey 1
Hershey 4 Atlantic City 2
Hershey 4 Atlantic City 3
Hershey Bears beat Atlantic City Sea Gulls 3 wins to 1.
Consolation Final
Edit
Hershey Cup
3 games total goals
New York 3 Baltimore 2
New York 2 Baltimore 0
New York 8 Baltimore 3
New York Rovers beat Baltimore Orioles 13 goals to 5.
The United States Amateur Athletic Union ran American amateur hockey at this time. They refused to accept this league as amateur, primarily because of the many Canadians who played here. They were all being paid to play outside their country.
The Bears could not play in the 1936-37 United States National Senior Championship. They were. however, invited to play in the 1936-37 Toronto International Tournament.
Ad blocker interference detected!
Wikia is a free-to-use site that makes money from advertising. We have a modified experience for viewers using ad blockers

Wikia is not accessible if you've made further modifications. Remove the custom ad blocker rule(s) and the page will load as expected.