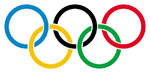 This team represented Canada at the 1936 Winter Olympics.
Originally the Halifax Wolverines, who had won the 1934-35 Allan Cup Final, were supposed to be Canada's team. However the team folded due to financial reasons. Their players were still going to go to the Olympics, but they demanded financial compensation for lost wages. The Canadian Amateur Hockey Association (CAHA) could not agree to this. This would have contravened the Olympic amateur rules.
The Wolverines players then dropped out and were replaced by the Bearcats who had lost the Allan Cup final in 1935. Some players from the Montreal Royals were added to the team.
Jan 29		5-2 (1:0, 3:2, 1:0) Francais Volants @ Paris
Feb 2		9-4 (2:0, 3:1, 4:3) Swiss Canadians  @ St. Moritz
Feb 6		8-1 (5:0, 2:1, 1:0) Poland @ Garmisch-Partenkirchen (OG)
Feb 7		11-0(2:0, 3:0, 6:0) Latvia @ Garmisch-Partenkirchen (OG)
Feb 8		5-2 (4:0, 1:2, 0:0) Austria @ Garmisch-Partenkirchen (OG)
Feb 11		1-2 (1:1, 0:0, 0:1) Great Britain @ Garmisch-Partenkirchen (OG)
Feb 12		15-0(3:0, 9:0, 3:0) Hungary @ Garmisch-Partenkirchen (OG)
Feb 13		6-2 (1:0, 3:0, 2:2) Germany @ Garmisch-Partenkirchen (OG)
Feb 15		7-0 (3:0, 3:0, 1:0) Czechoslovakia @ Garmisch-Partenkirchen (OG)
Feb 16		1-0 (1:0, 0:0, 0:0) United States @ Garmisch-Pertenkirchen (OG)
Feb 19		12-5(2:4, 5:1, 5:0) Nürnberg @ Nürnberg
Feb 23		3-1 (0:0, 1:0, 2:1) Austria @ Vienna
Feb 24		9-1 (4:1, 4:0, 1:0) Czechoslovakia @Prague
Feb 25		5-4 (2:1, 2:1, 1:2) LTC Prague @ Prague
Feb 27		9-0 (3:0, 3:0, 3:0) Germany @ Hamburg
Feb 28		10-1 Berlin
Mar 1		3-1 (0:1, 3:0, 0:0) Germany @ Berlin
Mar 2		9-7 (4:3, 2:1, 3:3) Intra Squad game:Eastern-Western Canada
Mar 4		5-1 (1:0, 1:1, 3:0) France @ Paris
Mar 5		12-6 (5:0, 2:2, 5:4) Amsterdam @ Amsterdam
Mar 6		21-10 Amsterdam
Mar 7		2-1 (1:0, 0:1, 1:0) Paris Canadians @ Paris

Team photo
Edit