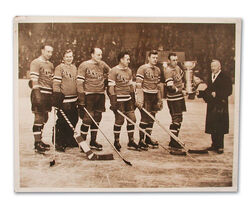 The 1933 Stanley Cup Finals was played between the New York Rangers and the Toronto Maple Leafs, in a rematch of the 1932 Final. The Rangers won the series 3–1 to win their second Stanley Cup.
Paths to the Final
Edit
Toronto defeated the Boston Bruins 3–2 in a best-of-five series to reach the finals. New York defeated the Montreal Canadiens 8—5 and Detroit Red Wings 6–3 to reach the finals.
The series
Edit
After game one, the Rangers would vacate Madison Square Garden for the circus. Bill Cook would become the first player to score a Cup-winning goal in overtime. Rookie goalie Andy Aitkenhead would post the fourth shutout by a rookie in the finals.
Toronto Maple Leafs vs. New York Rangers
| Date | Away | Score | Home | Score | Notes |
| --- | --- | --- | --- | --- | --- |
| April 4 | Toronto | 1 | New York | 5 | |
| April 8 | New York | 3 | Toronto | 1 | |
| April 11 | New York | 2 | Toronto | 3 | |
| April 13 | New York | 1 | Toronto | 0 | OT |
New York wins best-of-five series 3–1.
New York Rangers 1933 Stanley Cup champions
Edit
Roster
† Left off Stanley Cup, but included on the team picture
engraving-notes=
New York Rangers included two smaller rings on the Stanley Cup. Due to the size of the first ring, no playoff score were included. On the Second ring they honored Lester Patrick (See 1934 Chicago Black Hawks for the wording.) Lester Patrick's name was put on the Stanley Cup twice in 1934.
Rangers did not include President William Carey's name on the Stanley Cup. He is only President of a Stanley Cup winning team left off the Cup, since the engraving of winning members became an annual tradition in 1924.
References & notes
Edit
NHL (2000). Total Stanley Cup. Dan Diamond & Associates.

 
Podnieks, Andrew; Hockey Hall of Fame (2004). Lord Stanley's Cup. Triumph Books, 12, 50. ISBN 1–55168–261–3
Ad blocker interference detected!
Wikia is a free-to-use site that makes money from advertising. We have a modified experience for viewers using ad blockers

Wikia is not accessible if you've made further modifications. Remove the custom ad blocker rule(s) and the page will load as expected.