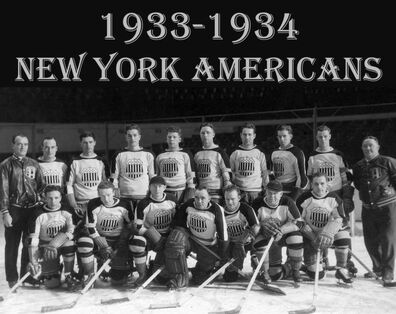 The 1933–34 New York Americans season was the Americans' ninth season of play. The Americans again did not qualify for the playoffs. This was the fifth-straight season that they missed the playoffs and the eighth time out of nine seasons.
Offseason
Edit
Regular season
Edit
Final standings
Edit
Note: W = Wins, L = Losses, T = Ties, GF = Goals For, GA = Goals Against, Pts = Points
       Teams that qualified for the playoffs are highlighted in bold.
| No. | R | Date | Score | Opponent | Record |
| --- | --- | --- | --- | --- | --- |
| 1 | T | November 9, 1933 | 2–2 OT | @ Chicago Black Hawks (1933–34) | 0–0–1 |
| 2 | L | November 12, 1933 | 2–5 | @ Detroit Red Wings (1933–34) | 0–1–1 |
| 3 | T | November 16, 1933 | 2–2 OT | @ Montreal Maroons (1933–34) | 0–1–2 |
| 4 | T | November 19, 1933 | 2–2 OT | Montreal Maroons (1933–34) | 0–1–3 |
| 5 | L | November 23, 1933 | 0–2 | Chicago Black Hawks (1933–34) | 0–2–3 |
| 6 | W | November 25, 1933 | 3–2 | @ Ottawa Senators (1933–34) | 1–2–3 |
| 7 | L | November 28, 1933 | 3–7 | @ Toronto Maple Leafs (1933–34) | 1–3–3 |
| 8 | L | December 2, 1933 | 1–3 | @ Montreal Canadiens (1933–34) | 1–4–3 |
| 9 | L | December 5, 1933 | 1–9 | Toronto Maple Leafs (1933–34) | 1–5–3 |
| 10 | L | December 9, 1933 | 2–4 | @ Boston Bruins (1933–34) | 1–6–3 |
| 11 | L | December 10, 1933 | 2–5 | Ottawa Senators (1933–34) | 1–7–3 |
| 12 | W | December 12, 1933 | 3–0 | @ New York Rangers (1933–34) | 2–7–3 |
| 13 | L | December 14, 1933 | 4–5 OT | Boston Bruins (1933–34) | 2–8–3 |
| 14 | T | December 17, 1933 | 4–4 OT | @ Detroit Red Wings (1933–34) | 2–8–4 |
| 15 | L | December 19, 1933 | 0–1 | Detroit Red Wings (1933–34) | 2–9–4 |
| 16 | L | December 24, 1933 | 1–3 | New York Rangers (1933–34) | 2–10–4 |
| 17 | L | December 26, 1933 | 1–2 | Chicago Black Hawks (1933–34) | 2–11–4 |
| 18 | W | December 31, 1933 | 3–1 | @ New York Rangers (1933–34) | 3–11–4 |
| 19 | W | January 2, 1934 | 4–2 | Ottawa Senators (1933–34) | 4–11–4 |
| 20 | L | January 4, 1934 | 4–5 OT | Montreal Maroons (1933–34) | 4–12–4 |
| 21 | W | January 7, 1934 | 4–0 | Montreal Canadiens (1933–34) | 5–12–4 |
| 22 | W | January 9, 1934 | 2–1 | @ Boston Bruins (1933–34) | 6–12–4 |
| 23 | T | January 11, 1934 | 1–1 OT | Toronto Maple Leafs (1933–34) | 6–12–5 |
| 24 | T | January 13, 1934 | 2–2 OT | @ Toronto Maple Leafs (1933–34) | 6–12–6 |
| 25 | L | January 14, 1934 | 0–4 | @ Chicago Black Hawks (1933–34) | 6–13–6 |
| 26 | W | January 16, 1934 | 2–1 | New York Rangers (1933–34) | 7–13–6 |
| 27 | W | January 21, 1934 | 4–2 | Boston Bruins (1933–34) | 8–13–6 |
| 28 | L | January 23, 1934 | 2–6 | @ Montreal Canadiens (1933–34) | 8–14–6 |
| 29 | T | January 25, 1934 | 1–1 OT | Detroit Red Wings (1933–34) | 8–14–7 |
| 30 | L | January 27, 1934 | 1–2 OT | @ Montreal Maroons (1933–34) | 8–15–7 |
| 31 | W | January 30, 1934 | 3–2 | Montreal Maroons (1933–34) | 9–15–7 |
| 32 | L | February 4, 1934 | 0–2 | Montreal Canadiens (1933–34) | 9–16–7 |
| 33 | W | February 6, 1934 | 1–0 | @ Boston Bruins (1933–34) | 10–16–7 |
| 34 | T | February 8, 1934 | 3–3 OT | Toronto Maple Leafs (1933–34) | 10–16–8 |
| 35 | W | February 11, 1934 | 4–3 | @ New York Rangers (1933–34) | 11–16–8 |
| 36 | L | February 13, 1934 | 2–3 | @ Ottawa Senators (1933–34) | 11–17–8 |
| 37 | T | February 15, 1934 | 1–1 OT | Detroit Red Wings (1933–34) | 11–17–9 |
| 38 | W | February 17, 1934 | 4–2 | @ Montreal Maroons (1933–34) | 12–17–9 |
| 39 | W | February 20, 1934 | 3–1 | Chicago Black Hawks (1933–34) | 13–17–9 |
| 40 | T | February 22, 1934 | 0–0 OT | @ Chicago Black Hawks (1933–34) | 13–17–10 |
| 41 | L | February 25, 1934 | 1–2 OT | @ Detroit Red Wings (1933–34) | 13–18–10 |
| 42 | W | March 4, 1934 | 3–0 | Ottawa Senators (1933–34) | 14–18–10 |
| 43 | L | March 6, 1934 | 0–3 | @ Montreal Canadiens (1933–34) | 14–19–10 |
| 44 | L | March 8, 1934 | 2–3 | Montreal Canadiens (1933–34) | 14–20–10 |
| 45 | L | March 10, 1934 | 5–8 | @ Toronto Maple Leafs (1933–34) | 14–21–10 |
| 46 | L | March 13, 1934 | 1–2 | New York Rangers (1933–34) | 14–22–10 |
| 47 | W | March 15, 1934 | 3–2 | @ Ottawa Senators (1933–34) | 15–22–10 |
| 48 | L | March 18, 1934 | 5–9 | Boston Bruins (1933–34) | 15–23–10 |
Player stats
Edit
Regular season
Edit
Scoring
Goaltending
[1]
References
Edit
External links
Edit