This is the 1928-29 season of the Maritime Intercollegiate Athletic Association.
1927-28 MIAA Season  :  1929-30 MIAA Season
1928-29 WCIAU Season :  1928-29 CIAU Season

Western Division
Edit
2 games total goals
New Brunswick 5 Mount Allison 2
New Brunswick 4 Mount Allison 1
University of New Brunswick won series 9 goals to 3.
Eastern Division
Edit
St. Francis Xavier University 12 Kings College 0
St. Francis Xavier University 7 Nova Scotia Tech 0
Conference Final
Edit
2 Games total goals
St. Francis Xavier 6 New Brunswick 1
St. Francis Xavier 4 New Brunswick 4
St. Francis Xavier University won series 10 goals to 5.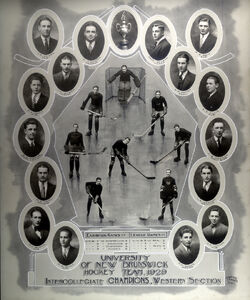 Ad blocker interference detected!
Wikia is a free-to-use site that makes money from advertising. We have a modified experience for viewers using ad blockers

Wikia is not accessible if you've made further modifications. Remove the custom ad blocker rule(s) and the page will load as expected.