Ad blocker interference detected!
Wikia is a free-to-use site that makes money from advertising. We have a modified experience for viewers using ad blockers

Wikia is not accessible if you've made further modifications. Remove the custom ad blocker rule(s) and the page will load as expected.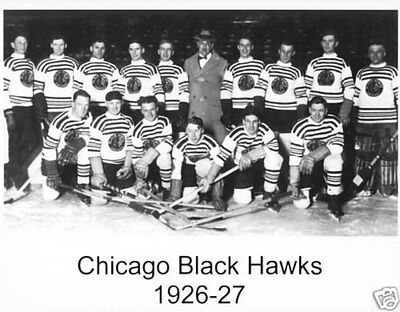 The 1926–27 Chicago Black Hawks season was the team's first season. Chicago was awarded an NHL franchise. The Hawks were founded by coffee tycoon Frederic McLaughlin, and most of the teams players came from the Portland Rosebuds of the Western Canada Hockey League, which had folded the previous season.
McLaughlin had been a commander with the 333rd Machine Gun Battalion of the 86th Infantry Division during World War I. This division was nicknamed the "Black Hawk Division", after a Native American of the Sauk nation, Chief Black Hawk, who was a prominent figure in the history of Illinois. McLaughlin evidently named the team in honor of the military unit, and his wife, Irene Castle, designed the teams logo.
Regular season
Edit
The Hawks would play their first ever game on November 17, 1926 at the Chicago Coliseum, defeating the Toronto St. Pats by a 4–1 score. The Black Hawks would lead the league in goals scored with 115, however they would also allow a league high 116 goals, en route to a 19–22–3 record, good for 3rd place in the American Division.
Babe Dye would lead the team with 25 goals, while Dick Irvin would have a club best 36 points, and finish 2nd in the NHL scoring race by a single point to Bill Cook of the New York Rangers. Percy Traub would lead the Black Hawks with 93 penalty minutes.
Season standings
Edit
Note: GP = Games Played, W = Wins, L = Losses, T = Ties, Pts = Points, GF = Goals For, GA = Goals Against
Teams that qualified for the playoffs are highlighted in bold.
Chicago would earn a spot in the playoffs and face the Boston Bruins in a 2 game total goal series. The Bruins would win the opening game by a 6–1 score, while the teams would play to a 4–4 draw in the 2nd game, giving the Bruins the series win with a 10–5 total score, and ending the Black Hawks first season.
Boston Bruins 10, Chicago Black Hawks 5
Edit
| | | | | | |
| --- | --- | --- | --- | --- | --- |
| # | Date | Visitor | Score | Home | Record |
| 1 | March 29 | Boston Bruins | 6–1 | Chicago Black Hawks | 0–1 |
| 2 | March 31 | Chicago Black Hawks | 4–4 | Boston Bruins | 0–1–1 |
Player stats
Edit
Regular season
Edit
Scoring
Goaltending
| Player | MIN | GP | W | L | T | GA | GAA | SO |
| --- | --- | --- | --- | --- | --- | --- | --- | --- |
| Hugh Lehman | 2797 | 44 | 19 | 22 | 3 | 116 | 2.49 | 5 |
| Team: | 2797 | 44 | 19 | 22 | 3 | 116 | 2.49 | 5 |
Scoring
Goaltending
| Player | MIN | GP | W | L | GA | GAA | SO |
| --- | --- | --- | --- | --- | --- | --- | --- |
| Hugh Lehman | 120 | 2 | 0 | 1 | 10 | 5.00 | 0 |
| Team: | 120 | 2 | 0 | 1 | 10 | 5.00 | 0 |
Note: GP = Games played; G = Goals; A = Assists; Pts = Points; +/- = Plus/Minus; PIM = Penalty Minutes; PPG=Power-play goals; SHG=Short-handed goals; GWG=Game-winning goals
      MIN=Minutes played; W = Wins; L = Losses; T = Ties; GA = Goals Against; GAA = Goals Against Average; SO = Shutouts;
References
Edit
National Hockey League Guide & Record Book 2007