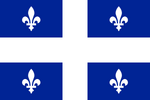 This is the 1925-26 season of the Senior Group:
In the previous season the Eastern Canada Hockey League was reorganized as the Senior Group of the Quebec Amateur Hockey Association. This was the first full season of the group.
The Ottawa Canadiens were given permission by the Ottawa District Hockey Association to play in this league.
This group was suspended by the QAHA in January over ineligible players and unpaid dues. It was re-admitted in February.
Standings
Edit

Note: After the group was re-admitted in February, Ottawa withdrew due to finances. Nationale and Columbus Club then withdrew because of their records.
Best of 3
| Date | Winner | Loser | Location |
| --- | --- | --- | --- |
| February 22 | Montreal 2 | Quebec 1 | Quebec City |
| March 1 | Quebec 3 | Montreal 1 | Montreal |
| March 5 | Quebec 2 | Montreal 2 | Quebec City |
(Series tied 1-1, 1 tie)
Series stopped because of deadline.
Quebec Sons of Ireland won by outscoring Montreal Victorias 6 goals to 5.
Quebec Sons of Ireland advanced to the 1925-26 Quebec Senior Playoffs.
Team Photos
Edit
Ad blocker interference detected!
Wikia is a free-to-use site that makes money from advertising. We have a modified experience for viewers using ad blockers

Wikia is not accessible if you've made further modifications. Remove the custom ad blocker rule(s) and the page will load as expected.