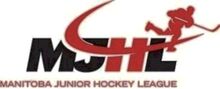 This is the 1920-21 Winnipeg and District Junior Hockey League season.
The WJrHL became the Manitoba Junior Hockey League in 1933.

Forword
The WJrHL was run and controlled by the Manitoba Amateur Hockey Association.

MAHA NotesEdit
League President: Jack McVicar
Assiniboia, Elmwood, Winnipeg Monarchs, Winnipeg Pilgrims, & Young Mens Lutheran Club withdrew.
Crescentwood, Portage la Prairie, St. Boniface Canadiens, Winnipeg Catholic Club, Winnipeg Falcons admitted.
Winnipeg Tammany Tigers transferred to "A" Division.
Winnipeg Victoria Bisons transferred to "B" Division.

---
---
---
"A" DivisionEdit
---
---
---
"B" DivisionEdit
---
---
---
League FinalEdit
Winnipeg Falcons won Winnipeg and District Junior Hockey League Championship
and Turnbull Cup, Manitoba Junior Hockey Championship
Memorial Cup PlayoffsEdit
Winnipeg Falcons won Abbott Cup, Western Canada Junior Hockey Championship
Winnipeg Falcons won Memorial Cup, Canada Junior Hockey Championship
Falcons were the first team from Western Canada to win the Memorial Cup